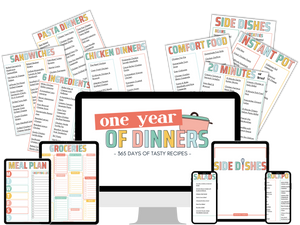 If variety is the spice of life...why is it so darn HARD to think of new dinner ideas?
The one thing I hear MOST from you lovely readers is that you need more variety at dinnertime.
You're stuck in a rut, and feel totally uninspired to cook dinner.
Let's face it, it's just plain hard to come up with new ideas.
Pinterest doesn't make it easy anymore either.
You used to be able to go on there to look for recipes, and they offered those helpful colorful bubbles along the top to help you narrow your search.
Ideas you never even thought of appeared, and soon you were happily pinning up a recipe storm.
Now you either have to know exactly what you're looking for…
...or you end up aimlessly scrolling through pins that don't even take you to the recipe!
Talk about frustrating!!
Introducing One YEAR of Dinners
To help you feel more inspired (and have TONS of dinner recipes right at your fingertips), I put together an entire YEAR of dinners!
Yep, there are 365 delicious, top-rated, and family approved recipes.
They're organized into easy-to-find categories, so you can quickly find something to cook.
Your weekly meal plan will come together in minutes!
→ No more aimless scrolling or cookbook-page flipping for an hour every Sunday.