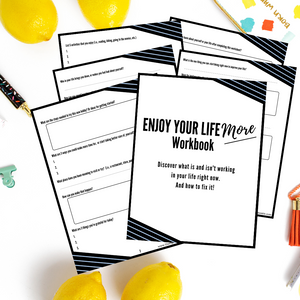 Looking for ways to increase your happiness and enjoy your life more?
This workbook will help you discover what is and isn't working in your life right now. And figure out how to fix it!
Often what contributes to unhappiness is the difference between our expectations and our reality.
It's so important to determine the sources of those differences, and decide exactly what needs to be changed to enjoy our life.
Use this workbook to come up with a game plan for increasing your happiness today!
Related Post: 12 Ways to Enjoy Your Life More 
Directions:
This is a instant downloadable product. Nothing will be shipped to you. You will receive a zipped file you can download instantly once your payment is approved. Save it to your computer, and print it as many times as you like. Double click the file to unzip and access your printables.