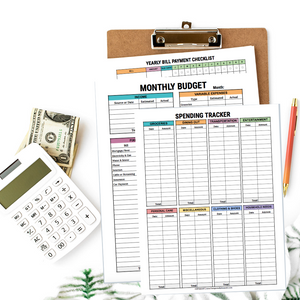 The Easy Budget Planner makes managing your finances SO much simpler!
If you can enter numbers (and add them), this planner walks you through the entire process!
BUDGETING DOESN'T GET EASIER THAN THIS!​
This printable Budget Planner is the EASIEST way to budget.
It'll help you track, save, and manage your money in a very simple-to-follow format.
Just plug your numbers into the designated spots, and add them up.
It's completely customizable for YOUR goals, bill, and income.
>> Stop STRESSING about your finances all the time.​
>> Discover where your money is actually going.​
>> Learn how to plan ahead so you can stop living paycheck-to-paycheck.​
>> Strengthen communication in your relationship and STOP those money fights.​
>> Be prepared for emergencies and other inconvenient expenses.​
>> Watch your savings GROW for a change!​
>> Feel EMPOWERED by gaining control over your money and your future.​