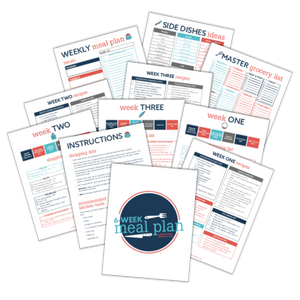 These done-for-you meal plans include 6 weeks of dinners...
PLUS the coordinating shopping lists!
You may never have to make another meal plan again!
When life gets hectic (and you run out of ideas), just follow the 6-Week Meal Plan! 
The shopping lists and simple recipes are laid out FOR YOU. 
Whether you shop in-person, or order your groceries online, everything you need to make these 36 dinners is clearly laid out. 
>> All of these easy recipes are kid-tested and husband-approved! Hearty soups, delicious casseroles, and much more.​
>> No fancy cooking skills required! Seriously, even a kitchen novice can use these easy-to-follow recipes.​
>> Most of the recipes can be ready in 30 minutes or less, or can be dumped into the slow cooker where they cook themselves.​
>> These 36 budget-friendly dinners use simple ingredients that are easy to find in any supermarket.​
>> Reuse the Meal Plan over and over. You may never have to make another meal plan, ever again!​